An awful slogan for an extremely interesting campaign. The "Yalla! Count" campaign, whose slogan is the above, aims to encourage Arabs to write in "Arab" as their race on the upcoming 2010 census instead of checking the "White" box. The campaign picked up traction this week when Newsweek published a feature article referencing the campaign and its background.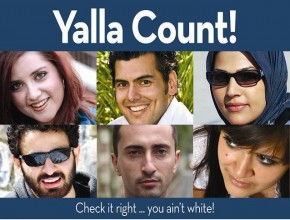 But as my friend and fellow blogger The Moor Next Door points out, the article ignores the history of Arab "Whiteness" in the United States.   If we are to construct Whiteness as not simply a race or skin tone, but a cultural or ethnic identity, then we can realize how the desire to be White has played into a century of assimilation and rejection of culture.
I recently read anthropologist Karen Brodkin's How Jews Became White Folks: And What That Says About Race in America; although the history of Jewish immigration differs considerably from that of Arabs (in more than one respect), there is a shared theme: the assimilation to Whiteness. In the case of Jews, such assimilation is tied directly into the shifting of American opinion post-WWII. As Brodkin writes:
[Suddenly, after World War II,] the same folks who had promoted nativism and xenophobia were eager to believe that the Euro-origin people whom they had deported, reviled as members of inferior races, and prevented from immigrating only a few years earlier, were now model middle-class white suburban citizens.
In the case of Syrians, as with many other ethnic groups, assimilation came with the fight for naturalization. At the turn of the last century, naturalization in the United States was limited to "aliens being free white persons, and to aliens of African nativity and to persons of African descent." Although there were a number of Syrian immigrants already residing in the United States at the time (and a couple of previous smaller cases), in 1915, a Syrian in South Carolina named George Dow was refused citizenship; his resulting appeal case (Dow v. United States 226 F. 145 – 4th Cir. 1915) decided that Syrians were "to be classed as white persons" thus making them eligible for naturalization. As Sarah Gualtieri writes:
Although it was not the last time a Syrian appeared before the courts attempting to litigate his (the cases involved men only) racial status, the Dow case established a weighty legal precedent in favor of Syrian whiteness.
Gualtieri's book, Between Arab and White: Race and Ethnicity in the Early Syrian American Diaspora, focuses on the history of how the first wave of Arab immigrants, who were mostly Christians of [what would today be considered] Syrian, Palestinian, and Lebanese origins, positioned themselves as White to gain access to the privilege of being a United States citizen. Later waves of Arab immigrants comprised more diverse populations, including more Muslims; the second wave naturally included a large number of Palestinian refugees, while the third wave (1960s to present) included a diverse group, many of whom were fleeing political persecution or hardship.
Although the first wave of Arab immigrants paved the way for Arab immigrants to gain citizenship, the "White" label didn't necessarily stick (although apparently Syrians are still widely considered white, as evidenced by white supremacist  David Duke's visit to Syria). While it's true that many Americans of Lebanese and Syrian descent have assimilated into White American culture (Pop singer Tiffany anyone?), that simply doesn't hold true for most Arab-Americans, hence the census campaign.
The "race" question on the current census includes Black, White, American Indian/Alaska Native, Asian, Hawaiian/Pacific Islander, while the "ethnicity" question determines whether or not one is of Hispanic/Latino/Spanish origins. The Census Bureau explains the details of each racial categorization on its site; White is meant to include: "A person having origins in any of the original peoples of Europe, the Middle East, or North Africa. It includes people who indicate their race as "White" or report entries such as Irish, German, Italian, Lebanese, Near Easterner, Arab, or Polish."
So what will the campaign accomplish? For many, it's simply a matter of feeling recognized as a distinct group, separate from the White majority. For others, it's a political matter; as comic Dean Obeidellah states in the Newsweek piece, "A lot of Arabs do not respond to the census, and they don't realize that it gives us more influence politically to have people know how many of us there are in this country."
Although  federal law protects census respondents' privacy, there are concerns about racial profiling amongst Arab communities as well, particularly in light of recent efforts by the TSA to step up racial profiling for airline passengers. Either way, I personally support the campaign, as I think it's important to be seen and heard as a community.