About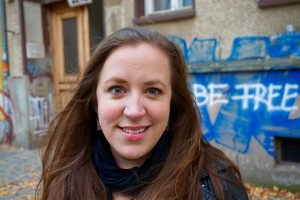 [copy/paste-able bio]:
Jillian C. York is a writer and activist focused on the intersection of technology and policy. Based in Berlin, she currently serves of the Director for International Freedom of Expression at the Electronic Frontier Foundation, where she works on free expression, privacy, and digital security.
Jillian is a fellow at the Center for Internet & Human Rights at the European University Viadrina and a member of the Deep Lab collective. She serves on the IFEX Council, the steering committee of the Web We Want, and on the Advisory Boards of SMEX, R-Shief, and the Engine Room.
With Ramzi Jaber, Jillian co-founded Onlinecensorship.org, a winner of the 2014 Knight News Challenge.  She is a frequent public speaker on topics including surveillance, censorship, and the role of social media in social change. Her writing has been published by the New York Times, Al Jazeera, the Atlantic, the Guardian, Quartz, Slate, the Washington Post, Foreign Policy, and Die Zeit, among others.
[Readable first-person bio]:
I am a child of New England, of New Hampshire birch and Maine lakes.  I am tri-continental, with my feet in Germany, a piece of my heart in Morocco and a large part of my soul throughout the Arab world.  I have traveled to more countries than I can count, met more incredible people that I could've ever dreamed, and have impressed my five- and fifteen-year-old selves beyond their wildest imagination.
I am passionate about the idea of the Internet as a facilitator for global connections, and, as such, I believe that it must be as free and accessible as possible.  To that end, I currently serve as the Director for International Freedom of Expression at the Electronic Frontier Foundation, where my work focuses on online censorship, digital security, and surveillance.  I am a frequent public speaker on those and other topics. I am also a fellow at the Centre for Internet & Human Rights in Berlin and a  member of the Deep Lab collective.
Other things that I'm passionate about include cats, social and environmental justice, languages, travel, camping, and avocados.
My writing has been published by, among others, the New York Times, the Guardian, the Atlantic, Slate, the New Statesman, Vice, Die Zeit, and Al Jazeera. I contributed chapters to the recent volumes Beyond WikiLeaks: Implications for the Future of Communications, Journalism & Society (Palgrave MacMillan); State Power 2.0: Authoritarian Entrenchment and Political Engagement Worldwide (Ashgate Publishing; co-authored with Katherine Maher); Überwachtes Netz (newthinking communications); Encyclopedia of Social Media and Politics (CQ Press/Sage Reference); and the upcoming The Participatory Condition (University of Minnesota Press). Once upon a time, I wrote a travel guide to Morocco. I am also featured prominently in the film #ChicagoGirl: The Social Network Takes on a Dictator. Here's an interview with me that I particularly like.
Prior to joining the EFF, I worked at the Berkman Center for Internet & Society at Harvard University on a number of projects, including the OpenNet Initiative and Herdict Web. In 2009, I co-founded Talk Morocco, which was a winner of Deutsche Welle's Best of Blogs (BOBs) competition in 2010. From 2011 to 2017, I served on the board of Global Voices Online, an incredible citizen media project to which I also occasionally contribute content, and in 2011 was named to Foreign Policy Magazine's Top 100 'Twitterati' list. In San Francisco, I was a member of the Future Soul Think Tank at the Yerba Buena Center for the Arts.
I serve on the advisory boards of several projects and organizations, including  SMEX, R-Shief, and the Engine Room. With my friend Katherine Maher, I used to host a webshow called Interrobang‽ on Bloggingheads.tv. I have a BA in Sociology from Binghamton University (with a minor in theatre), and a certificate from  THNK, the Amsterdam School of Creative Leadership.
My job at EFF allows me to work with amazing people on issues that I truly care about. Some things I'm currently working on: Digital Citizen, an Arabic-English bilingual newsletter on digital rights in the Arab world; Surveillance Self-Defense, a modular set of digital security guides; and OnlineCensorship.org, a project that I co-founded with Ramzi Jaber that is a winner of the 2014 Knight News Challenge.
My Twitter feed, which is my primary mode of public communication these days, was once (aptly, if I do say so myself) called "Grim reality mixed with activism, humanism, feminism and a dash of humor."
If you want to understand a little about my life, this quote from Cory Doctorow describes it well.
Disclaimer: This is a personal blog.  The opinions expressed here represent my own and not and not those of the Electronic Frontier Foundation, Global Voices, or any other organization with which I am affiliated.  Additionally, I am human, and as such, my views are subject to change.

Like what I do? I now accept Bitcoin donations: